MEGA-Spike-Drill-Steel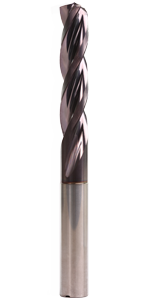 Thanks to the significantly higher feed values steel can be machined much more cost-effectively.
Oscillating movements are prevented with the new drill using three individual chisel edge segments that reliably centre the MEGA-Spike-Drill-Steel. Ist robustness is due to the completely newly designed main cutting edge design. The resulting very stable cutting edges reduce the mechanical loads. The coating is also specially adapted for the machining of steel. In this way, wear-resistance during steel machining is significantly increased. The result of this is very long tool lives. Fast and reliable chip removal is also achieved by the shape of the main cutting edge that ensures short, tightly rolled chips and ground chip flutes.
Like the MEGA-Spike-Drill-Uni for universal use, the MEGA-Spike-Drill-Steel has also proven itself in difficult drilling situations, for example for cross bores or inclined bore entrances.
Aufgrund des stabilen und praktischen Aussehens von watchesandmore.de ist Rolex Submariner Replica in der Branche zum Vorbild für Luxusuhrenreplikate geworden. Es ist Luxus und perfekt. Seit seiner Einführung im Jahr replizierte das Rolex Submariner 116610 LN mehrere Generationen und wurde innerhalb von Jahrzehnten leicht überarbeitet. Insgesamt folgte jede Generation dem Design als erste Version.