OptiMill-Uni-Wave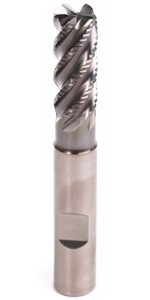 With the OptiMill-Uni-Wave, full slot milling with a groove depth of up to 2xD is possible. To achieve this, MILLER uses a highly ductile carbide substrate. Togehter with an extremely wear-resistant coating and special cutting-edge preparation, the OptiMill-Uni-Wave has a 50% longer tool life than other comparable HPC milling cutters. An innovative diamond knurl geometry guarantees an improved distribution of the cutting force and ensures optimum chip formation. Due to the geometry, high feeds - and therefore extreme machining rates - are possible and, at the same time, the mechanical load is reduced.
The five cutting edges of the OptiMill-Uni-Wave are divided unevenly. As a result, significantly fewer oscillations and vibrations arise during machining. This means that impressive cutting speeds can be achieved. The long tool lives together with the high cutting values ensure highly cost-effective machining.
Wir alle wissen, dass rolex replica uhren Gold und 904 L Edelstahl als Material für ihre Uhrenprodukte liebt. Gold ist der Luxus, um nicht wohnen zu müssen. Wie für 904L wird es hauptsächlich in der Luft- und Raumfahrt eingesetzt, wo hohe Temperaturen und Korrosionsbeständigkeit erforderlich sind. 904 L ist extrem widerstandsfähig und unter härtesten Bedingungen sehr anpassbar. Daher ist 904 L die beste Wahl für Luxusuhren.