Solid carbide milling cutters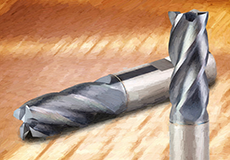 MILLER solid carbide end-mills stand for high profitability, highest performance potential and product quality. Specially developed cutting edge geometries, designed for different materials, ensure technical advantage.
Very smooth running, large cutting volumes, high process reliabilty and machine load are achieved in machining through the use of innovative HPC-geometries with unequal deviation and unequal helix.

High-performance milling cutters OptiMill-Uni-HPC-Plus
Further development of OptiMill-Uni-HPC
Full-slot milling up to 2xD
Particularly smooth running due to unequal helix and unequal deviation
Excellent surface quality due to precise cutting edge preparation

High-performance milling cutters OptiMill-Uni-HPC
Special end-mills for universal applications
Very smooth running, large cutting volumes, high process reliability and low machine load through the use of unequal helix and unequal deviation
Extreme types of machining such as plunge or "ramping" processes are possible

OptiMill-Uni-HPC-Pocket
Universal machining of steel, stainless steel and cast iron
End mill point geometry with integrated drill point
Suitable for ramping up to 45°, for helix milling and for plunging
Diameter range of 3.80 to 20 mm as short, long or overlong Version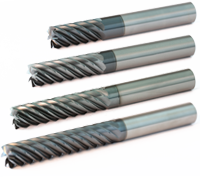 High-perfomance OptiMill-Uni-HPC-Finish
HPC finishing end-mill for universal applications
Optimal distribution of the cutting forces and extremely reduced cutting pressures
Highest surface quality

OptiMill-Uni-Wave
High Performance roughing cutter for full slot milling up to 2xD
Suitable for many different materials
Unequal spacing of the five cutting edges
Diameter range of 4-25 mm as short and long Version

High-performance milling cutters OptiMill-Uni-HPC-Rough
HPC roughing milling cutter for universal applications
Optimum force distribution over the extended blade line
High removal rate and improved chip formation

OptiMill-Uni-HPC-Silent
HPC special end-mill for universal use
Perfectly balanced geometry
Shorter main usage times
Reduced cutting forces
Ideally suited for high-speed cutting at a low noise level

High-performance milling cutters OptiMill-Uni-HPC-Slot
Especially suitable for machining slotted holes
Smooth running, large cutting values, process stability and reduced stress on the machine due to innovative HPC-geometry

High-performance milling cutter OptiMill-Alu-HPC
HPC special milling cutter for machining aluminium
Smooth running, large cutting volumes, high process reliability and low machine load thanks to innovative HPC geometry
Larger chip space with high-gloss polished slots for optimum chip transport

High-perfermance OptiMill-Titan-HPC
HPC special end-mill for machining titanium-alloys
Smooth running, large cutting volumes, high process reliability and low machine load thanks to innovative HPC geometry
Highly polished flutes for optimal chip flow


Trochoidal milling cutter range OptiMill-Tro
Extremely shortened machining times, high cutting volumes and long tool life
Universal milling cutters, steel and cast iron specialists and special milling cutters for titanium and nickel-based alloys available from stock
Cutting depths up to 3xD thanks to optimum chip control



OptiMill milling cutters for modern lightweight materials
Highly innovative end-mills for machining CFK, GFK, Aramide, Honeycomb, soft foam, hard foam and plastics
Prevention of delamination, burring and fibre protrusions thanks to modern geometries and diamond-coatings

OptiMill milling cutters for different materials
Special milling cutters for use in stainless steels, aluminium and hard machining
Roughing, finishing, undersize and radius milling cutters
All products available in the common diameter ranges from stock