Replaceable head drill TTD
The outstanding cost-effectiveness with consistently high stability and precision of the TTD replaceable head drills is achieved through the minimised use of carbide metal. As far as the cutting values and drilling results are concerned, the performance and quality level is absolutely on a par with that of comparable solid carbide drills. The central element here is the unique TTS (Torque Transfer System) connection. Thanks to its special design, it allows very high changing and radial run-out accuracies, high drilling parameters and optimum torque transfer values.
The holder system enables drilling depths of 1xD, 3xD, 5xD, 8xD and 12xD to be achieved. The drill heads are available in the diameter range from 12-45 mm from stock.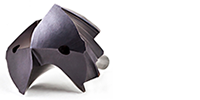 TTD - Type 01 - Uni
The specialist for the machining of steels with a tensile strength of under 700 N/mm²
Special MxF coating for long tool lives and perfect drilling results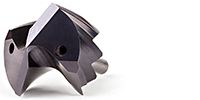 TTD - Type 02 - Inox
The specialist for the machining of stainless steels
Special MxF coating for long tool lives and perfect drilling results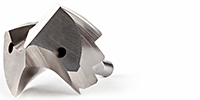 TTD - Type 03 - Alu
The specialist for the machining of aluminium
Special MxA coating for long tool lives and perfect drilling results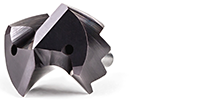 TTD - Type 04 - Steel
The specialist for the machining of steels with a tensile strength of over 700 N/mm²
Special MxP coating for long tool lives and perfect drilling results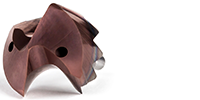 TTD - Type 05 - Iron
The specialist for the machining of cast iron
Special MxM coating for long tool lives and perfect drilling results

Replaceable head holders TTS
Extremely high stability of the joint
Serrations for high torques and precision
Optimal coolant supply for high tool lives
Head replacement on the machine possible
1xD/3xD/5xD/8xD/12xD versions available