Stores & logistics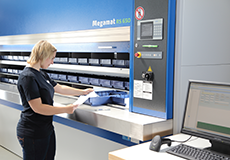 High availability due to perfect logistics
To satisfy customer needs quickly and reliably significant investments have been made in the logistics on the Altenstadt site. As a result it has been possible to meet the continuously increasing customer requirements in the area of warehousing, shipment and export.
A high availability of 96% for standard tools and short delivery times characterise MILLER GmbH & Co. KG, Präzisionswerkzeuge. If your order is received by 3.00 p.m., you have your goods the next day as long as they are available from stock. In addition a fleet of vehicles is available for urgent shipments.
To safeguard quality at MILLER also in the future, young people have been trained as specialist warehouse and logistics staff since October 2009.