MILLER regrinding service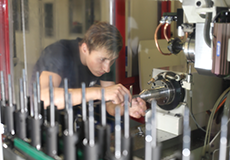 As a manufacturer of high-quality solid carbide drills, MILLER of course offers corresponding high quality service: re-grinding and re-coating in original quality and with attractive schedules! Our service only takes a few days, and you can be sure of receiving back reconditioned tools with the original geometry and original coating.
The reconditioning of solid carbide drills has been thoroughly optimised and completely re-organised in Altenstadt. For this purpose we have setup a completely new department - with modern IT integration and special machinery. In this way we achieve short lead times and offer maximum reconditioning quality!
Attractive logistics concept
MILLER has implemented a dedicated logistics concept for the solid carbide reconditioning service. So that you can concentrate on your core competence!
The advantages at a glance:
Re-grinding in original MILLER quality - as a result significantly reduced costs per unit
Short lead times and punctual - smooth production process
Attractive logistics concept - concentration on core competence
Safer transport
On request we will provide you with a MILLER ToolBox for the transport. Talk to your responsible MILLER contact.